The purpose of all services offered at Untethered, LLC is to increase Mindfulness, Balance, Self-Awareness,
and Peace in the areas of Mind, Body, Spirit, and Soul.
Here are our Spirit Services: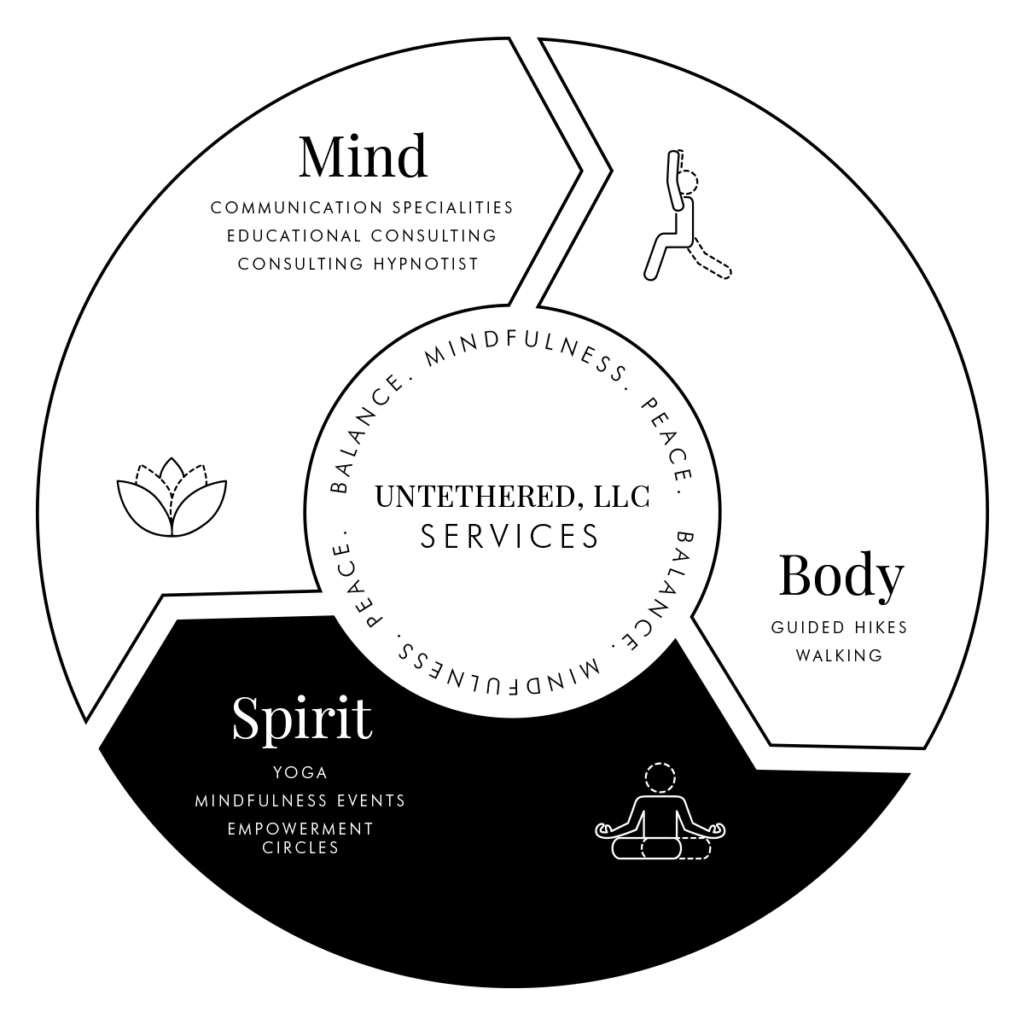 Yoga —
The Power of Sun Salutations
15 minutes of practicing Sun Salutations daily far outweighs 1-2 hours per week of practicing Yoga. Sun Salutations thoroughly deepen your Yoga practice and offers positive changes in your life.
In this program, we will deeply explore these 12 simple poses. Done for 15 minutes a day you will see within yourself an increase in peace, mindfulness, strength and done vigorously you will experience weight loss.
Private Yoga Sessions
Private Yoga Sessions include the basic foundations of a Yoga practice which includes: Sun Salutations, Pranayama (breathing), & Meditation. After this session, you will be able to do a daily yoga practice on your own.
 1-hour session - $75.00

Meditation —
Designing A Meditation Just for You
Meditation relieves anxiety and stress. It increases self-awareness, intuition, and peace. After a private consultation, a meditation practice will be designed specifically for you based on your needs and desires. You are welcome to meditate with us as a community or privately; the choice is yours.
Private Or Small Group Meditation
$20 for 30-minute session
*After the intake process, a tailored Meditation practice will be given to you.

Breathology —
Destress With The Breath
Destress with your breath and you will find that you are an exhale away from joy. In this program, we will explore various types of conscious breathing techniques that will melt away tension, fear, and doubt.
This program will also offer those athletes who want to take their performance to another level.

Private Couples' Yoga —
Strengthen Your Relationship
Private or small group. Deepen your love relationship by exploring yoga and basic feng shui tips that will enhance the love in your relationship.

We will plan a Yoga Party for you and your friends or co-workers where you will get personal treatment.

Take goal setting to a whole new level. Manifest the Life you truly want. What you envision for yourself along with identifying how you want to feel will get you closer to living with a purpose.
Let us host a Vision Board Party at your home or work or join one of our sessions.

Community-Building Workshops
We offer community-building workshops where we explore various topics that are of interest to the community. These Empowerment Circles offer Enlightenment, Bonding & Support.